CRI关于考研的思考
  前段时间考研刚刚结束了,今年参加考试的人数突破了记录,越来越多的.学生选择了考研。为什么这么多学生都选择了继续学习这条路,而他们又将如何面对接下来的就业压力?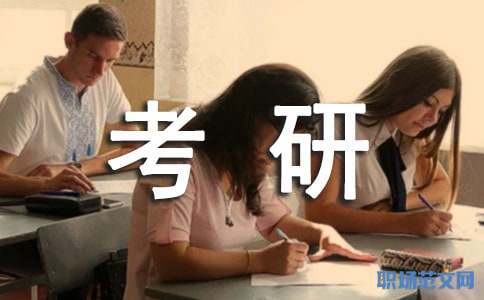 Ma Ding is a graduate student majoring in engineering at Beijing Union University. He has decided to sit for this year's postgraduate entrance exam, as he wants to pursue graduate studies in the history of Chinese and foreign clothing at the Beijing Institute of Fashion Technology.
  "My purpose is actually to become a graduate student. My friends told me that it would be easier for me to be enrolled in this major, as not that many people choose this major. Therefore, there will be less competition."
  Ma has prepared for the exam for more than three months. During this time, he says he has come to fall in love with his proposed area of study.
  "I think costumes are the representation of a culture. They can become a kind of tool with which you can explore more about culture. You'll get a deep understanding of a culture, and you can better understand the culture of your own country."
  Like Ma Ding, more college graduates in China nowadays are pursuing further study rather than looking for employment. There has been an annual increase of more than 100,000 applicants for postgraduate exam because of intense competition for jobs. Lv Zejun is another university graduate who took this year's exam.
  "No matter what, I will do my best in pursuing a postgraduate education. If I fail this year, I will probably take the exam again next year."
  Chu Zhaohui, a researcher at the China National Institute for Educational Research, believes the majority of applicants are taking the exam to improve their chances of getting a job, because of the fierce competition in the job market.
  But Chu says he does not believe graduate schools are ready in terms of qualified teachers and adequate resources for the rocketing number of students.
  Graduate school enrollment has increased by 130,000 places from three years ago, and fewer students nowadays are taking the postgraduate exam so they can devote themselves to academic research.
  Many candidates are happy to admit they are taking the exam to boost their chances of getting a job. However, a master's degree is no guarantee of a good job. A recent report in the Legal Mirror cited Ministry of Education data that indicated the country's postgraduate employment rate was even lower than that of college graduates in 2009 and 2010.
  Experts say the severe employment situation also has something to do with the nation's economic development, and the increasingly higher salary expectations of postgraduates.
  According to a Beijing Evening News report, almost all master's degree holders at a job fair in Beijing last month expected to earn more than 5,500 yuan or about 870 US dollars a month.
  For CRI, I am Zhang Wan.
  声明:音视频均来自互联网链接,仅供学习使用。本网 站自身不存储、控制、修改被链接的内容。""高度重视知识产权保护。当如发现本网站发布的信息包含有侵犯其著作权的链接内容时,请联系我们,我们将依法采取措施移除相关内容或屏蔽相关链接。
【CRI关于考研的思考】相关文章:
6.关于考研的常识
7.关于考研的理由
8.关于考研的范文